16711 Park Centre Blvd. Miami Gardens, Florida 33169 U.S.A.
Phone : +1 (305) 907-5600 - Fax : +1 (305) 907-5601
info@avpartsinternational.com

AVPARTS INTERNATIONAL LLC is a sales and distribution company providing aircraft parts. Established in Miami, Florida USA, the firm's long term plan include a production with very modern technology to bring highly reliable parts. AVPARTS aims towards the international spare parts sales arena, seeking out to be the best supplier.
The company's primary goal is to work with the international and domestic air carriers and their technical maintenance. Providing our customers with the latest technology, fast and reliable service to satisfy their demands with high inventory levels.
Our clients choose Avparts International based on the safety related reputation that has been built along fast and reliable distribution.
All our parts are fully traceable to Boeing Licensee and the Manufacturer. AVPARTS is fully complied with FAA, ASA, ISO standards and regulations.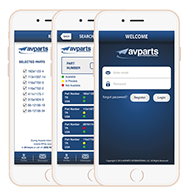 AVIATION PARTS AT YOUR FINGERTIPS
Avparts International's smartphone application will help you reach your needed spare parts faster and easier.
By typing the part number in our smartphone application, you will get instant access to stock information and be in touch with our expert sales representatives.
Avparts International's smartphone application is now available on the App Store, Google Play and Windows Phone Store.
CERTIFICATES & MEMBERSHIPS




| © 2017 Avparts International